April 22, 2016 8:11 am
Comments Off

on Steel Partition Offices
                                            The Benefits of Steel Partition Offices
Steel partitions are an excellent utility if you are considering re-designing your empty space, expanding current office or warehouse space. Our range consists of multiple single and double skin steel partition offices. Our company offers tailored services that are made to the client's specification and project. Once we survey the area we can offer competitive quotes that will challenge any other company in the South West UK. With our knowledge and experience you can be sure to trust us with designing and completing your re-design in a prompt manner.
QA, based in Bristol with offices in Cardiff and Reading offer full project management, design and installation of 'steel partitioning offices' throughout the UK. For more information please visit steel partition offices.
As our steel partition offices are a modular system, once the initial project is installed and fully built, we can re-locate the offices and construct different layouts and spaces, which would take a traditional construction projects months to years to achieve. Within a few weeks we can install an incredibly flexible system which, if you choose to, can change and re-design the whole workspace, whilst only paying for additional extras you may want, and labour costs.
Our industrial grade installation teams can provide swift and immediate service depending on your intended time frame. You, of course, have to consider planning and time for us to acquire our resources and materials in order to complete your brief, but we will be sure to stick to your timeframe as we understand the importance of deadlines within a construction project.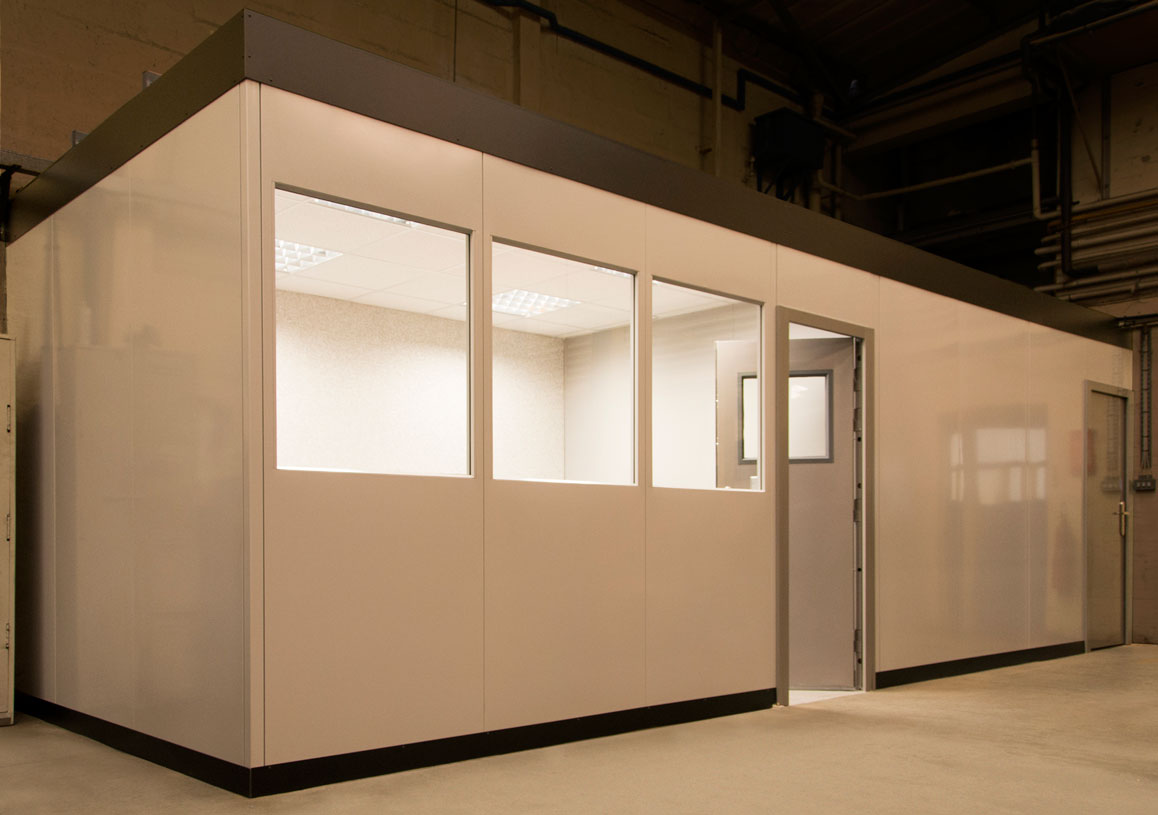 We understand the importance of quality over quantity. From our materials to our technicians, only the best will be employed for your project. We handpick our resources from trusted manufacturers, which uphold every British standard set by the appropriate associations. We don't take shortcuts as we take pride in our products, and wouldn't standby by them if we did not believe in them.

With our large catalogue of partition offices, we can offer and tailor fit any space you may have. The offices themselves are so robust and customisable the possibilities are endless. Just a few of our offices can transform an empty area into a functioning, profitable workspace. Our partition spaces are suitable for a multitude of uses, from office spaces to mass storage or security bonded offices or cages.

An overall benefit to our steel partition systems is that we can achieve what others cannot. We can manage any project regardless of logistical hindrances, anywhere in Southern UK. Once we have a clear idea on what you want to achieve we can design and install the partition offices to meet your needs. We can improve overall costs of your project, as our experience provides huge knowledge in the operation of building internal steel structures. The sheer logistical advantage we have creates savings within themselves, and that's without accounting our favourable quotes.

The installation of steel partitions by our team of technicians can be a stress-free and speedy process. We understand the hindrance of "downtime" within your business, and we aim to complete our brief within or under the time frame set to reduce any business downtime you may encounter.

If you are thinking of transforming your empty space into valuable, workable and profitable workspace with steel partition offices, think QA Workspace. For a free, no commitment quotation and/or on-site survey please contact us at our Bristol head office on 01179 533 232

Tags: QA Workspace, QA Workspace Bristol, QA Workspace Cardiff, QA Workspace Reading, steel partition offices, steel partition offices Bristol, steel partition offices Cardiff, steel partition offices company, steel partition offices Reading


Categorised in: Steel Partitioning

This post was written by QA