May 10, 2019 8:15 am
Leave your thoughts
Reasons why your office could benefit from refurbishment
Your office is the hub for your company and your brand. Your office environment can affect the mood of your employees and clients potentially without you realising every single day. Your office decoration and design can sometimes be placed at the bottom of the to-do list, underneath the hustle and bustle of daily projects, meetings, and general working lives. An office should be a place where inspiration is flying high and ideas are bouncing off the wall but over time if your office is neglected it can become an uninspiring space to be which can then result in mediocre work being produced.
Planning your office refurb is imperative. It is important to first realise why you want to refurbish your office and make sure this is clear to the company helping you with your refurbishment. Whether your office needs a new extension or needs to upgrade facilities it is important to identify the "why" to figure out "what" needs to be done to achieve this outcome.
QA Workspace is here to explain the huge benefits of refurbishing your office today. QA Workspace also can offer an office fit out service which can retain inspiration and life into your office. If you would like more information on our office fit out services please visit our website today for more information.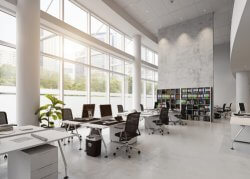 Cost
An office refurbishment will be a lot more cost-effective than a complete office relocation, especially if you have just renewed your lease or have bought your new office outright. If your office suits your business there really is no need to put yourself through the stress of relocation when you can simply refurbish it for a fraction of the cost.
Branding
Refurbishing your office to fit your brand's style can create a positive and long-lasting first impression for your clients. Decorate your office with your brand colours, logos, and slogans or create a brand new fresh and inspiring new image for your workspace. A tip we have would be to have the design be consistent as it will show professionalism in the workspace.
Integrating new technology
If your workspace design has not been refreshed and redesigned in a number of years, your workspace might be falling behind with the times in regard to technology. You may want to think about updating your office to add new systems and technology innovations that are being used in the modern working world. Refurbishing your workspace is a great opportunity to accommodate the space for the new technology.
Attracting new talent
Attracting new, talented members of staff and retaining them is critical for any business. This can be done easily by providing good employment conditions. Employees with comfortable, attractive, and supportive surroundings in a working environment are more likely to work to their full potential and also feel valued. This is very important in the workplace as people who feel undervalued are more likely to search for employment elsewhere.
Additional space for new staff
As your company grows and expands you may need to make extra room for additional staff members. An office refurbishment will allow you to make the most out of your existing working environment without needing to find a new office.
Creating a new boardroom
A boardroom is arguably one of the most important spaces in a working environment as some of the most important decisions are made in this room. A boardroom is where your clients will spend the most time and where your employees will step away from their working environment and become a bit more creative. This room will need to be both stimulating and relaxing. You can create a unique space where management can plan for the companies future for long hours in comfort and style. If your office is lacking in this area, a well-planned refurbishment could create a unique space where your team can spend hours making important choices to support the company.
Improving facilities will  improve productivity
A refurbishment can make a world of difference in your office. A new look can truly inspire your staff and improve morale in the team which will be reflected in the work produced. The facilities in the office will have a lot of impact on staff morale. If you have facilities which will benefit staff they will feel valued and enjoy working in the office environment. Getting your staff involved in the design process of the office could also act as a morale booster.
Create a good impression for clients
First impressions are very important. From the very second, your clients enter your office. You will want them to feel that they could enjoy doing business with your company and in your office. A professionally refurbished can transform the look of your workspace to make visitors feel more confident in your companies abilities.
The reorganisation of the team
Sometimes as your company grows the structure of staff can go through a period of change, when this happens the office may need to be reorganised to suit the new structure of the business. An office refurb can help you restructure the placement of your staff members to help them communicate and be more efficient with work in the future. You can also consider building additional rooms in your office or maybe create an open floor plan office to meet your business' new demands while still being a place of work with good communication.
To create a "green" office
Nowadays it is very important to say environmentally friendly at home and in the workplace. You could see the refurbishment as an opportunity to ensure your workspace is built using renewable sources and carbon neutral materials. This will show your clients, staff and the general public that your business has a responsible attitude towards the environment and global affairs.  
To accommodate new facilities
As your business expands, the different services your business can and will offer will probably expand too. You may need to expand your office to have a brand new staff room, reception area, presentation room or simply another office area for work. Planning your brand new office to fit all of these elements is imperative. Use your space wisely but creatively to make the most of your existing office space.
Health and safety
After a few years, an office can go through some wear and tear, this can cause health and safety problems for you, your staff, potential new staff and clients. Simple things such as loose carpets or cords can lead to dangerous accidents. Refurbishing your office can allow you to strip everything back to the start to make sure the new design is safe for everyone and an enjoyable place to work.  Here is a quick list of safety features that your office should include;
Fire alarms and fire extinguishers

Fire blankets

A stocked first aid kit

Warning signs for wet floors

Step stools for items on high shelves

Health and safety wall chart
QA Workspace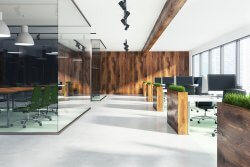 QA workspace has a lot of experience when it comes to planning and implementing office fit-outs and office re-fits. We have offices in Bristol, Reading and Cardiff. We can reassure you that we will help you keep to budget and stick to the time given to complete the project. Call us today to find out more about our office space management on 0117 953 3232.
Categorised in: Office Re-fits
This post was written by QA