August 30, 2018 8:12 am
Leave your thoughts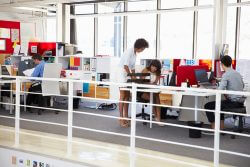 Installing a mezzanine floor for your business premises or warehouse has many benefits and can help transform the area in which your employees work or store items relevant to your business. With applications in both the domestic and commercial sectors, installing a mezzanine floor has many implications that can directly benefit your business. From retail to storage / production and office solutions, a mezzanine floor has many uses across these sectors.
QA Workspace has offered mezzanine floor solutions for businesses for many years. Specialists in installing bespoke solutions for businesses that require a mezzanine floor in Bristol, we have helped many of our clients create workspaces or storage facilities for their premises. In this article, we discuss the applications of mezzanine floors and how you can use a mezzanine floor for your business. If you require a mezzanine floor, enquire with QA Workspace today online using a contact form on our website or telephone directly now on: 0117 953 3232
Retail Solutions with a Mezzanine Floor
Companies in retail can see a wide range of benefits and solutions when installing a mezzanine floor. Typically seen across a wide range of retail spaces, a mezzanine floor can increase retail space and add value to the overall property. In a world where customer service and ease of accessibility is more and more important, allowing customers to see your products clearly is highly important. This could also allow you to stock different products and you will have more storage and display space for your products. You can also utilise mezzanine flooring for storage solutions if your retail premises has a warehouse area.
Industrial Mezzanine Applications
Perhaps one of the most widely used applications of mezzanine is in the industrial sector for expanding industrial businesses. When your workspace is no longer big enough for your requirements then it's highly recommended to consider installing a mezzanine floor. This can save money on the costs of having to move or purchase new business premises and allows you to set up your expanding industrial working area quickly. Your mezzanine flooring can be relocated which makes it a very cost effective solution indeed and the fact that the mezzanine floor has excellent fire protection makes it ideal for your warehouse or industrial production area. You can even install office areas within an industrial warehouse for administration purposes or create an area in which managers can watch or observe workers. There's a number of safety features that also are offered with our mezzanine floors such as stairs to access your mezzanine floor, gate systems to ensure worker safety as well as additional safety equipment and edge protection. This makes sure that your workforce is safe and this is very important for industrial applications.
Mezzanine Flooring for Offices
Similar to other solutions, the extra space that is created when opting for mezzanine flooring in your office space is exceptional and highly cost effective. You can install your mezzanine floor in your existing office space or above the manufacturing area. You can even install mezzanine floors in any other type of office space to increase storage space as well as working space for your workforce. Opting for a mezzanine floor compared to other solutions are significantly cheaper and less bother to install. The quickness of construction also means that there are little disruptions made and you will be able to enjoy the new workspace that is created. Office spaces often find that they require additional workspace but find that they don't want to relocate or purchase additional premises are ideally suited to install mezzanine floors and this is why they are becoming more and more popular in this sector.
Install Your Mezzanine Floor With QA Workspace Today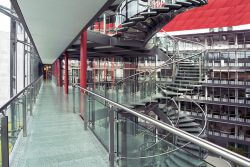 Installing your mezzanine flooring couldn't be more simple with QA. We offer a wide range of resources and technical knowledge to help you install more space in your office, industrial area or commercial premises. In both design and installation, we will carry out detailed planning to make sure that the project runs as smoothly as possible. As minimal disruption is optimal for your business, we will ensure that your project finishes on time and on budget. Enquire with QA Workspace today to arrange for the installation of your mezzanine floor. If you require mezzanine flooring in Bristol from QA then enquire online using a contact form on our website or telephone now on: 0117 953 3232

Tags: Mezzanine Bristol, Mezzanine Floor Bristol, Mezzanine Information Article


Categorised in: Mezzanine Information Article

This post was written by QA